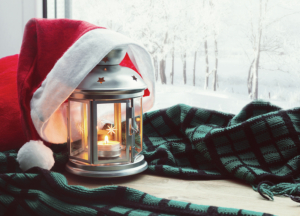 Added on December 21st 2016
Go All Out for a Christmas Sale
Winter is seen as the slowest time of year for house sales, but if you're on the market and you really fancy being in your new place before spring, then don't let anything get in the way. Like Christmas – Christmas shouldn't get in the way of a house sale; in fact, you can use it to move things along.
The key is keeping it cosy and subtle, though. No glowing Santas clambering down your chimney head-first, or nodding reindeer lights up your front path. No. You're aiming for an old-fashioned, Christmas card look that will make viewers dream of spending next Yuletide right there, in your house.
Did we say subtle already?
Multi-coloured lights are a real turn-off nowadays. You should opt for twinkling white lights and thread them around the front door, or over the trellis arch at the gate. Ditch the "Santa stop here" lights. Really.
Try an outdoor tree
If you have a porch, place a small, natural tree or two there and wind a few small lights around them. The exterior should hint at a welcoming, tasteful seasonal interior. You should have some kind of wreath on the door, as well as some bright bells.
Step inside 
Once inside you can ramp things up a bit – but only a bit. Have your main tree in the living room – you can use multi-coloured lights on it, but not too bright and definitely not flashing! A few holly or twig decorations over focal points won't go amiss either.
Smells festive
One of the best things about Christmas is the rich smell – gingerbread, spices, baking, vanilla and pine. If you don't have time to rustle up a batch of gingerbread, then invest in a few gingerbread-scented candles instead.
Bigger isn't better
If your space isn't huge, don't fall into the trap of thinking a massive tree will impress people – it won't. It'll look silly and will prevent viewers from, well, viewing. Work with the space you have, including your outside space if you're really cramped inside.
Image Credits;
Copyright for the image within this blog post is owned by 'Syntheticmessiah', and has been licenced for use on this blog post through Big Stock Photo (stock photo ID: 155420807). For questions relating to this image please contact the copyright owner directly.
« Back to Latest News