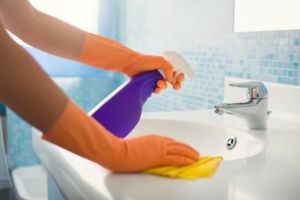 Added on March 8th 2019
The bathroom is one of the hardest areas of the house to keep clean and it's also the first to show signs of neglect. A bathroom should be all sparkly surfaces and fluffy white towels, but if you have more than a couple of people in the house and you live in a hard water area, it can be a tall order to maintain this shiny finish. Here are a few ideas to help you through the selling period, when even your grouting has to work hard for you.
Eliminate moisture
If you have a window in your bathroom, use it! If there's one thing that makes a bathroom dingy and smelly, it's mildew, mould and that special essence of a damp towel. If you don't have a window, then invest in a squeegee and scrape away water from the sides of the shower cubicle and bath. You should also leave the bathroom door open or use the extractor fan to drive out steam. Moulds simply can't live in dry areas, so aim for arid.
Use a shower spray
A quick spritz with one of these water-repellent sprays will mean you can leave the serious cleaning for a couple of extra days. These sprays dry to form a thin coating that causes water to bead up and run down rather than drying in situ and leaving mineral deposits behind. Use them on mirrors, taps, tiles and shower cubicles to keep them shiny for just a little while longer.
Have a good old clear-out
Everyone is guilty of having a chaotic bathroom cabinet or vanity stand, but when you're trying to sell, you have to up your storage game. Go through your bottles, tubes, blister packs, old contact lens cases and so on and bin expired, empty and unwanted items. You should introduce zones for your products, too, even if it means buying new storage boxes or shelves.
Bring in some new bars
Another bad habit is using the floor as a shelf. Towels and clothes end up on the floor because there's nowhere else to hang them and this is not a good look. Just adding another rail, door hanger or a set of shelves can make a huge difference.
Keep on top of limescale
If you only follow one of these tips, make it this one! Limescale looks awful, collects stains, dulls chrome and glass and gets worse the longer you leave it. There are lots of limescale removers on the market, so invest in some. If there are some really stubborn deposits, then soaking some cotton wool in vinegar, wrapping it around the beleaguered fitting and leaving it overnight will help to shift it.
« Back to Latest News