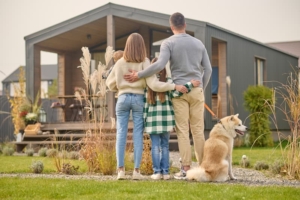 Added on May 26th 2022
Settling down and starting a family – or expanding your existing family – is one of the most exciting and stressful times of your life. One of the most exciting and stressful events of this time is finding the perfect family home for you and your offspring to live and grow in. 
Here's what you need to be considering when you're searching for your ideal family home.
The size
The first thing you need to think about is the size of the property. You all have to fit into it comfortably, possibly with room for another addition down the line. Three bedrooms is fairly standard for a smaller family, but you can also make a two-bedroomed property work for a few years if you have bunkbeds and use large shelves as dividers.
The location
Your location needs change when you have a family. You're not looking for a vibrant city-centre place so much anymore. You'll want a bit of peace and quiet with shops, parks and good (or outstanding) schools nearby.
About those schools
It really pays to do your homework when it comes to schools (sorry…). Look closely at the catchment areas for the schools you want – primary and secondary – before you start making any offers. Be prepared for properties near the most desirable state schools to cost a little bit more than similar listings that are out of catchment.
The transport links
Having easy access to buses and trains, especially if the buses and trains have easy access to all the places you want and need to get to! Good transport links is also great when the kids get older and start to travel about on their own a bit more rather relying on Mum and Dad Taxis…
The green spaces
Having lots of parks and open spaces nearby is brilliant for young children, especially if you've had to compromise on the size of your new property. Even if you have lots of indoor space, visiting parks and playgrounds is a great way to meet people and make new friends. 
The local crime stats
Probably just as important as schools, crime stats in your would-be postcode are a vital metric to help you to find a happy home. While crimes can happen anywhere, if a property you're looking at is in an area plagued by muggings, gangs, car thefts and so on, then it's probably best for you and your children if you swipe left.
« Back to Latest News